Dubai, negara minyak yang kaya, memamerkan kemegahan negerinya. Setelah membangun gedung pencakar langit tertinggi saat ini, Burj Khalifa dan membangun mal terbesar, Dubai Mall, mereka siap membangun hotel di bawah laut.

Dikutip dari Dailymail, hotel bawah laut ini akan diberi nama The Water Discus Hotel. Desainnya sungguh futuristik, menyerupai bangunan luar angkasa.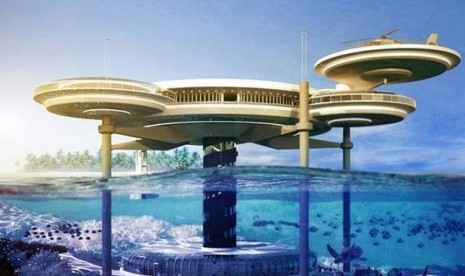 Hotel berbentuk cakram ini dirancang oleh Deep Ocean Technology (DOT). Tujuan pembangunan The Water Discus Hotel untuk menyuguhkan keindahan bawah laut Dubai bagi wisatawan.

Lokasinya akan ditempatkan pada 10 meter di bawah permukaan laut. Bagian ini terdiri dari 21 kamar, bar, dan ruang khusus untuk menyelam. Selain itu hotel ini juga dihubungakan oleh tiga pilar yang dilengkapi dengan lift dan tangga untuk membawa tamu melihat keindahan bawah laut.



Hotel yang masih dalam tahap rancangan ini juga dilengkapi dengan teknologi pencahayaan khusus yang dapat menerangi alam sekitar laut. Terdapat fotografi mikro dalam tiap kamar untuk merasakan pesona laut yang ada di sekitarnya.Untuk membuat hotel mewah ini diperkirakan menghabiskan dana hingga 18 miliar dolar AS atau Rp 165 triliun.

Maka, tak aneh bila hanya orang berduit yang bisa menginap di hotel yang digagas Pemimpin Dubai Mohammed bin Rashid Al Maktoum ini. Maklum, untuk menginap di hotel ini tarif per malam dibanderol mulai 5.760 dolar AS (sekitar Rp 50 juta).

sumber : REPUBLIKA.CO.ID